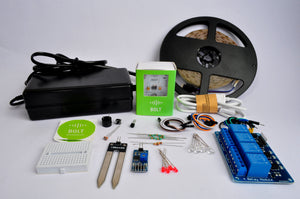 The Smart Home and Garden is one of the most popular products of Bolt IoT. Till date, this training has been attended by more than 1,000 students across the globe.
This online video training is excellent for those who want to start with IoT because it teaches you to build projects from the basics.

You will learn to build projects like
Home Automation
Voice Controlled Lighting
Environmental Monitoring
Smart Garden
and many more ...
A specially curated kit for makers. Make your home and garden the smartest one on your street with this chunky set of actuators and sensors to automate your appliances.
Hardware Kit Includes
Bolt WiFi Module x1

Bolt Cloud: Lifetime Access

Bolt Smartphone App

USB cable x1

Bolt Stickers x2

LEDs x8

Buzzer x1

LM35 Temperature Sensor x1

Light Dependent Resistor(LDR) x1
Push Button Switch x1
Male to Male connecting wires x3
Male to Female connecting wires x3
Female to Female connecting wires x3
Mini Breadboard x1
Soil Moisture sensor x1
4 Channel relay x1
LED strip 3meters x1
12V power adaptor for LED strip x1
330 Ohm resistor x6
10k Ohm resistor x2 
Support and doubt resolution
During the training, if you are stuck at any point, we shall provide support over the forum and emails. Be assured that we are there to help you out during your projects and learning process.