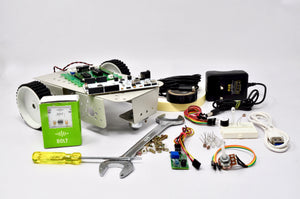 Robotics and Arduino Training is one of the most popular products of Bolt IoT. Till date, this training has been attended by more than 100 students across the globe.
This online video training is excellent for those who want to start with robotics because it teaches you to build projects from the basics.
You will learn to build projects like
Obstacle avoiding robot
Light following insect robot

Plant Monitoring robot
Mobile controlled robot
Voice command robot
E-mail talking robot
Facebook connected robot
and many more ...
Hardware Kit Includes
WiFi-enabled Bolt Micro-Controller module

Boltduino Micro-Controller module with Arduino IDE.
Bolt Smartphone App
Bolt Cloud
Obstacle sensor (TSOP)
Temperature Sensor (LM35)
Light sensor (LDR)
Push Button Switch
Potentiometer
LEDs
Buzzer
Resistors
Breadboard
Powder Coated Metal Chassis
Metallic Motors of 100 RPM X 2
Wheels X 2
Caster Wheel
USB Cable
12V Power Adaptor
Power extension cable
Assorted Connecting Wires
Assorted toolset for assembly like screws, nuts, screwdriver, spanner, tapes etc.
Support and doubt resolution
During the training, if you are stuck at any point, we shall provide support over the forum and emails. Be assured that we are there to help you out during your projects and learning process.